We are excited to partner with Monica's Bundt Cakes! With the current "stay at home", we know how important it is to support other small business while helping you celebrate an event! 48 hour notice is required. 8" (feeds 6-12) 10" feeds up to 20 Available in Chocolate, Vanilla, or Strawberry with cream cheese frosting!
All prices in USD ($)

Due to seasonality of this product, there may be an increase for cost of goods for out of town deliveries.
8 inch Chocolate + $50 Bouquet + 3 Balloons

bundle

8 inch Vanilla + $50 Bouquet + 3 Balloons

bundle

8 inch Strawberry + $50 Bouquet + 3 Balloons

bundle

10 inch Chocolate + $50 Bouquet + 3 Balloons

bundle

10 inch Vanilla + $50 Bouquet + 3 Balloons

bundle

10 inch Strawberry + $50 Bouquet + 3 Balloons

bundle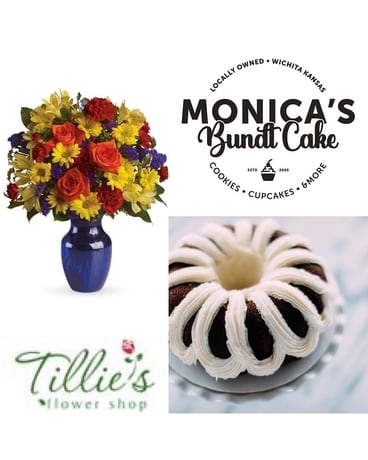 8 inch Chocolate + $50 Bouquet + 3 Balloons - $92.99
8 inch Vanilla + $50 Bouquet + 3 Balloons - $92.99
8 inch Strawberry + $50 Bouquet + 3 Balloons - $92.99
10 inch Chocolate + $50 Bouquet + 3 Balloons - $102.99
10 inch Vanilla + $50 Bouquet + 3 Balloons - $102.99
10 inch Strawberry + $50 Bouquet + 3 Balloons - $102.99