We will be featuring flowers grown locally in Galva, KS from Sheila's Garden Market! Many have seen her at the Farmer's Market. She cuts her blooms in the morning and brings them to us! Each Week we have different offerings.

Bouquet will include the week's variety she brings to us. Get "Sheila's Garden" wrapped Bouquet for $20! Double the bouquet for $40. Available for in store pick up or curbside pick up. You can also have an arrangement made to include these flowers for only $15 more!

Hand wrapped bouquet is available for pick up only. (there is no water source for delivery)

Arrangement is available for local delivery or pick up.
Standard Hand Wrapped: Pick Up Only

sheila

Double Hand Wrapped: Pick Up Only

sheila

Standard Arrangement for Delivery or Pick Up

sheila

Double Arrangement for Delivery or Pick Up

sheila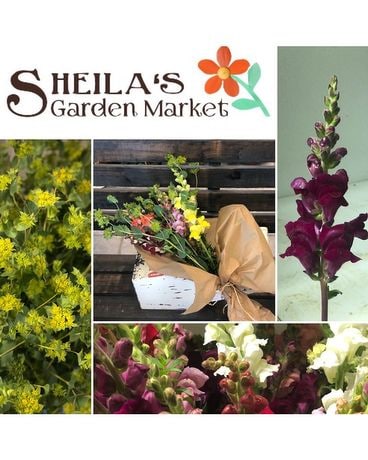 Standard Hand Wrapped: Pick Up Only - $20.00
Double Hand Wrapped: Pick Up Only - $40.00
Standard Arrangement for Delivery or Pick Up - $35.00
Double Arrangement for Delivery or Pick Up - $55.00